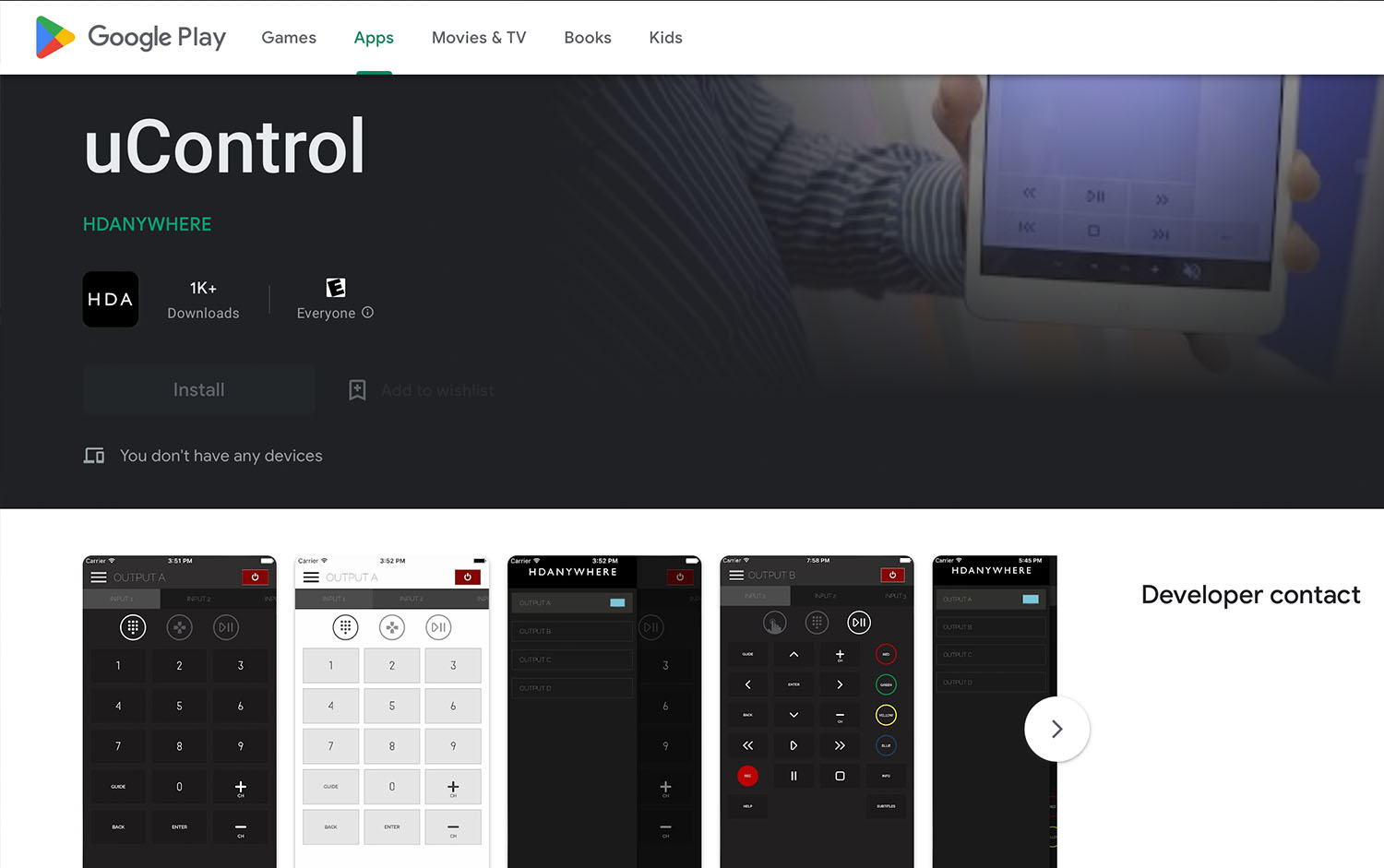 Major updates are being rolled out to our operating system (uOS) to facilitate the rapid setup of complex stacked MHUB systems, alongside the deployment of uControl interfaces, i.e. the uControl App and uControl Remote, which is about to be released.
In order to deliver a consistently good experience, we have taken the decision to pick one mobile operating system to focus all app development resources. As over 85% of uControl users are iOS-based, we have picked iOS as the sole platform for the uControl app for HDA devices released after 2021*. (All previously released HDA devices, such as MHUB U and PRO will still work on Android.)
Also playing a factor in this decision is the planned release of a fully browser-based version of uControl, where any browser on any OS (including Android) can be used.
*What does this mean?
What do I do when specifying new projects which intend on using Android?
In general, older systems (see below) will still work with Android but newer ones will not. A browser-based replacement is being produced but won't be ready in the immediate future so you must manage this expectation with your customer. If you are unsure please contact us.
Will uControl for Android still work on my current MHUB?
Yes - All standalone MHUB models up to MHUB-OS 8.29 will still work on the current Android App for now but any new bugs or issues reported will not be patched or repaired.
Does the uControl Remote require the Android App?
No - you can configure the uControl Remote entirely without the Android App.
Will uControl still be available in the Google Play Store?
Yes - there are no plans to remove the app, just to suspend additional development until further notice.
What won't the current Android uControl App work with?
Any MHUB on MHUB-OS 8.30 or higher
Any HDANYWHERE stacked system (MHUB S/MHUB + MZMA etc)
Any standalone HDANYWHERE device running uControl OS (uOS), such as uControl Zone Processors, MZMA (6x4) 55 and new MHUB models being launched soon.
What do we have coming to help alleviate this issue?
An upgrade of uOS will be launched that offers a web-based uControl, which will be perfect for commercial projects and accessible from any browser. This is already in development now for release in early 2024.
What do I do on new projects?
Please do not offer or recommend Android-based mobile devices or Android compatibility.
We're working hard to bring you exciting new products and capabilities to help you grow your business, so please stay tuned as we start launching new products in the coming months.
Thank you, as always, for your support.
The HDANYWHERE Team