The stackable matrix.
---
MHUB S is our solution for bigger projects. With up to 80 zones of video and control included, MHUB S is cheaper and easier to install than AV over IP.
Supporting 100m of full-fat 4K or 150m at 1080P range and no need for a control system, there's finally an alternative to AV over IP.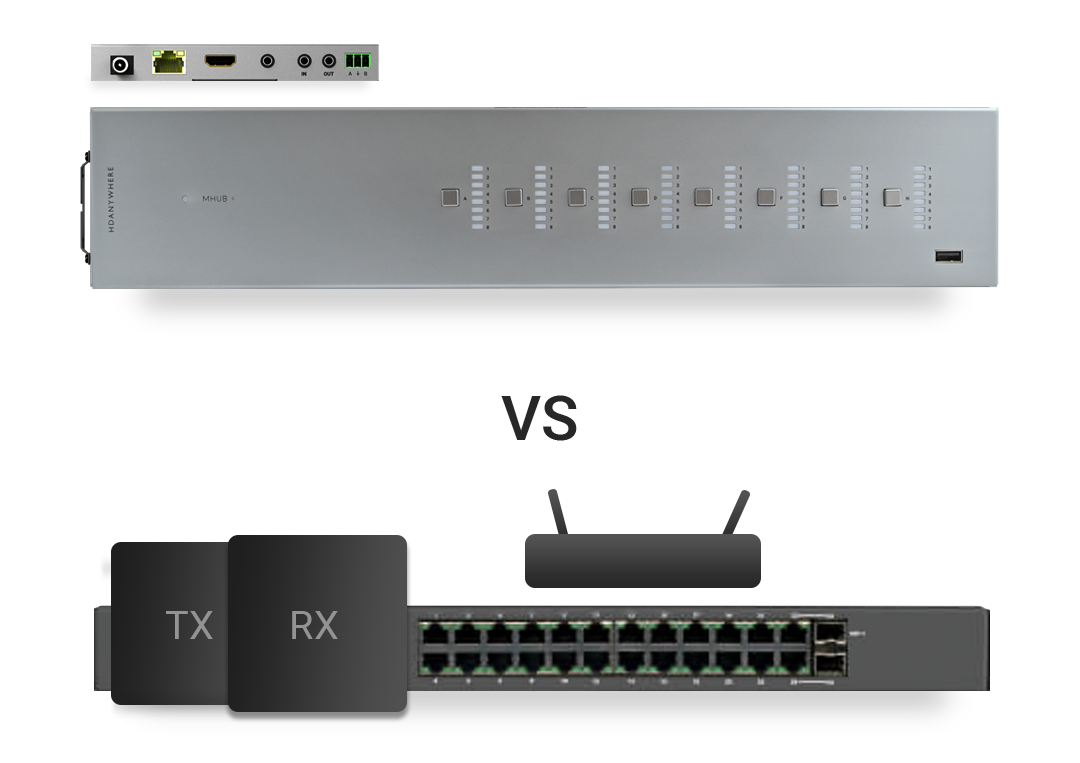 Easier than AV over IP.
Burn less calories thinking about your video distribution solution and spend more time building it.
---
Your time is important. A project may involve the procurement of hardware, infrastructure, control and installation, this takes time and effort. MHUB S and a Zone Processor (if you're stacking systems) is 2 SKUs and everything needed is included inside the box. Building a 8x16, 8x24 or 8x32 system is the same difficulty as setting up a single MHUB.
Up to 50% less cost.
If your project has less than 80 screens then MHUB S offers exceptional value for money compared with other methods of distribution because there's no requirement for a switch and control is included.
Check out how MHUB stacks up against the competition below.
Modular Matrix
Competitive in smaller projects only. Card based expansion limited by chassis IO.
Maximum output is limited by chassis size
Too many options: hard to spec
Expensive over 16 screens
Multiple points of failure
Requires control system
Not price competative
MHUB S
Beats the competition in cost & control up to 80 screens.
Distribution to 80 screens*
Up to 50% cheaper than competing technologies
18G Video using TPC
Plug-and-Play setup - no training required
Source, AVR, display & MHUB S control included
IR passback supported
Timed events and macros supported
Cloud connected
Video over IP
The leading technology for medium-to-large distribution projects.
Networking knowledge required
Product training required
18G video compressed to 1G
Entirely reliant on a control system
Costly option in small/medium applications
Difficult to update
How it works:
Mirrors enable easy stacking.
MHUB S can work standalone as a 100m 8x8 system or it can be stacked in to another MHUB S by mirroring the inputs. This gives the second, third or fourth MHUB S access to video content connected to the foundation system.
MHUB S even supports IR passback so a source device connected to the foundation system can receive an IR signal received by the MHUB S systems higher up in the stack.

"The Prince was suffering from a dated distribution system with delays and drop outs. We needed a rock solid reliable solution that we knew would solve the issue. We chose HDA and continue to do so... Plus the kit looks great! ""
The Prince, London, United Kingdom.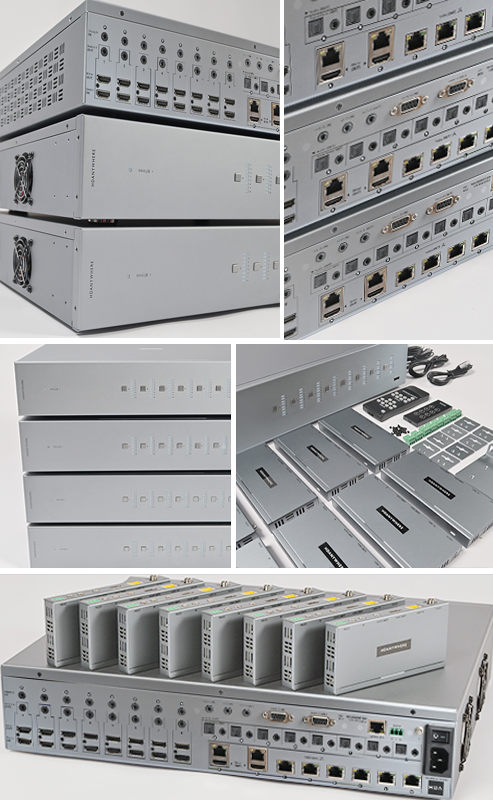 Free powerful control options included.
Control everything connected to MHUB S with uControl our control app. With video distribution delivered by MHUB S, there's no need to spec a control system if you (or you customer) doesn't want to. Instead control the entire system from our app whether its turning off all displays, switching to certain combination or scheduling Sequences so that displays turn on at a certain time on weekdays.
Get access to MHUB S training
HDA Pros gain access to our e-Learning platform which includes how to sell MHUB S, how to set it up and how to use it's advanced features to control AV and lighting. Our courses span from beginner level (HDMI fundamentals) all the way to advanced configuration techniques, hacking MHUB and marketing courses.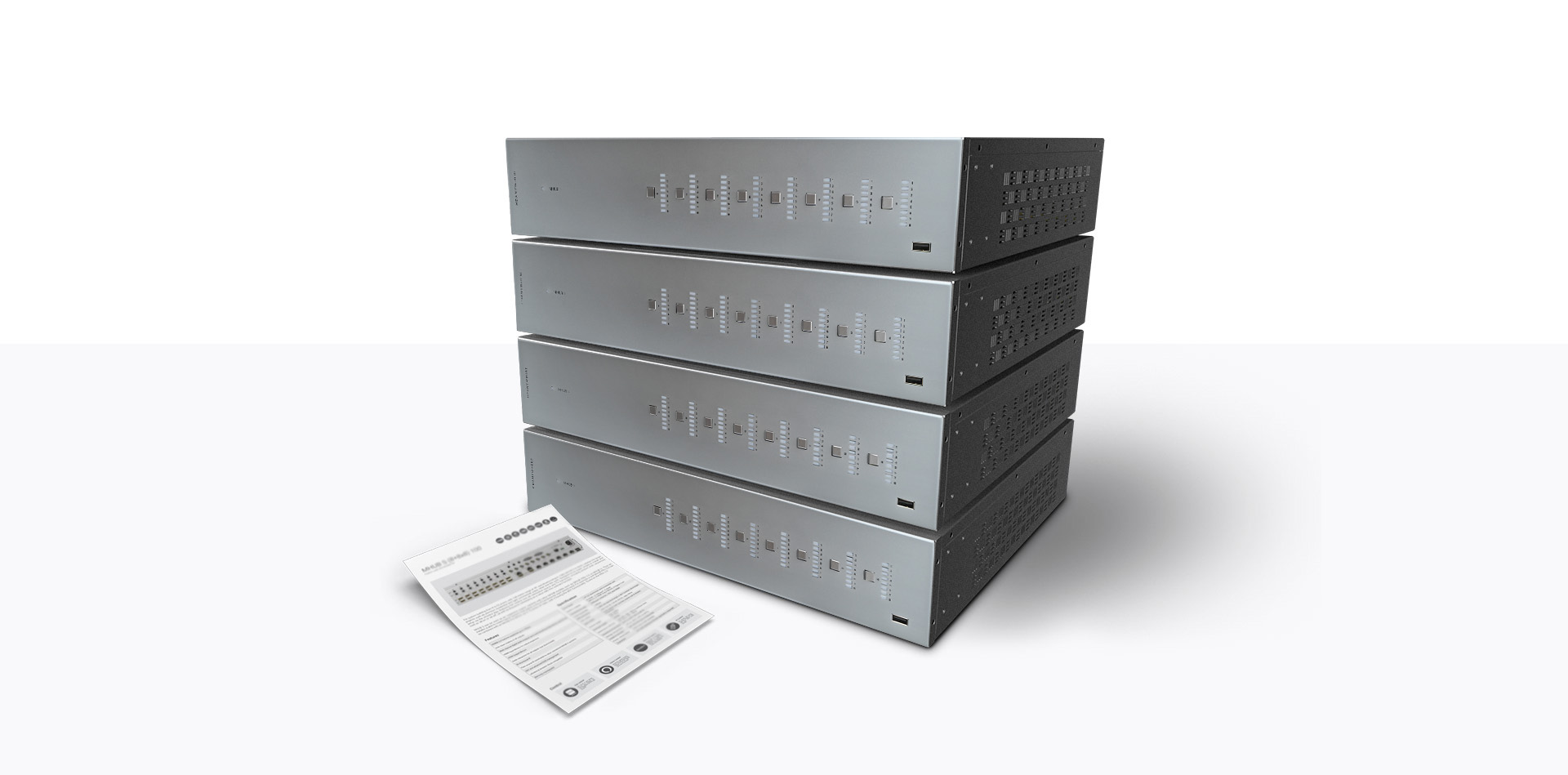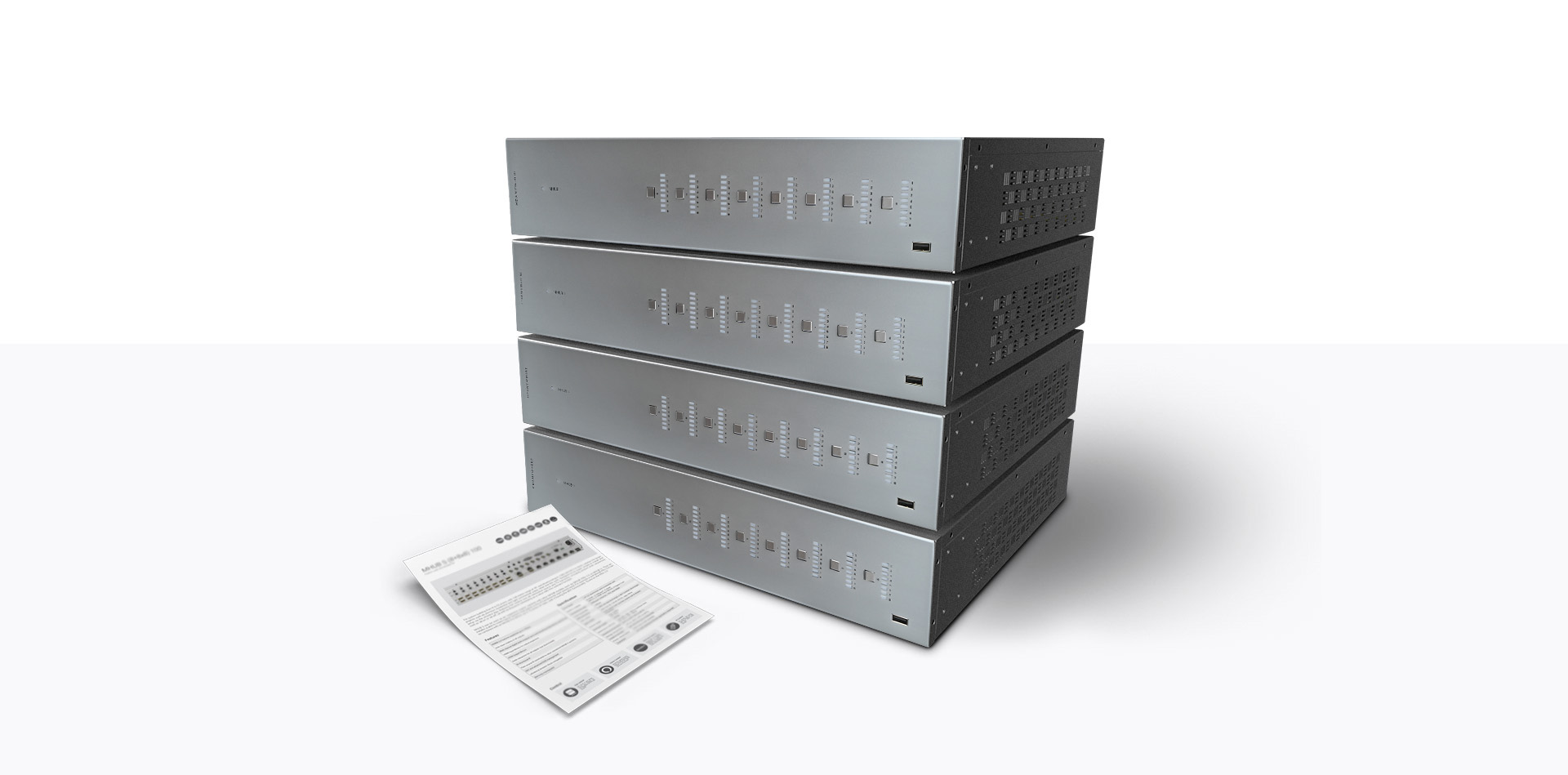 Getting started is easy.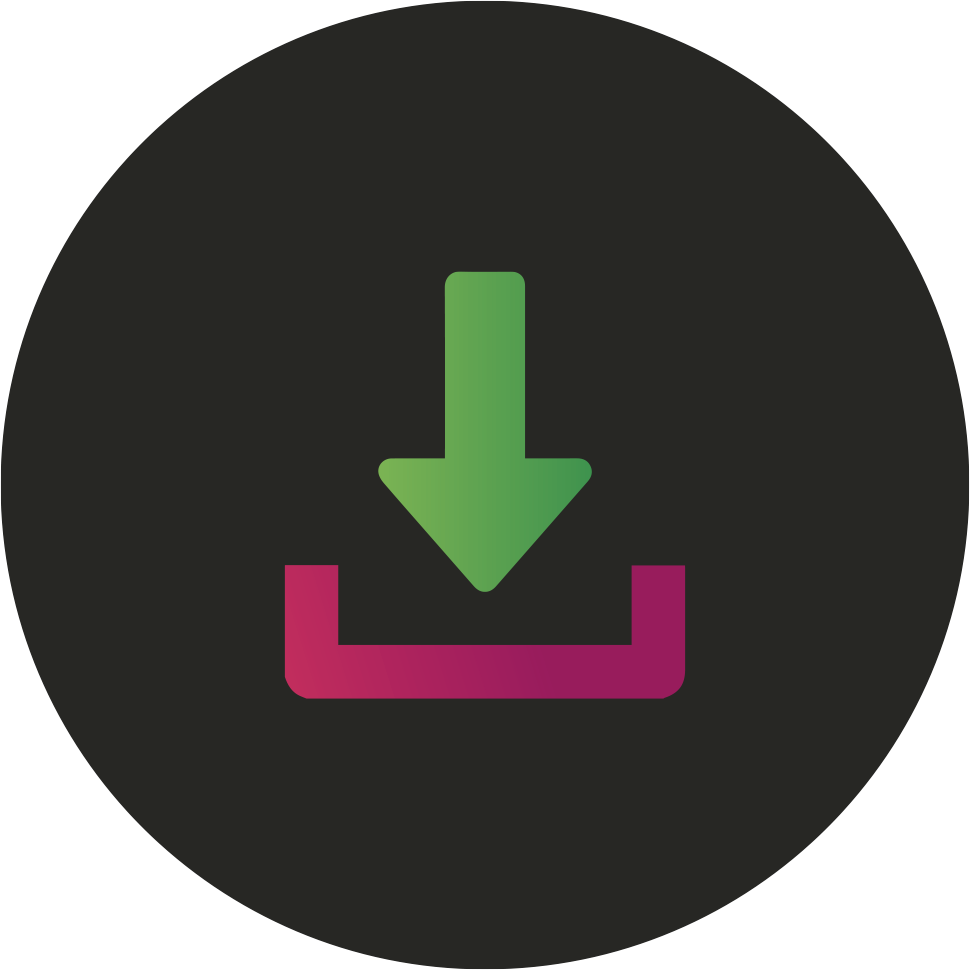 1
Download our setup guide.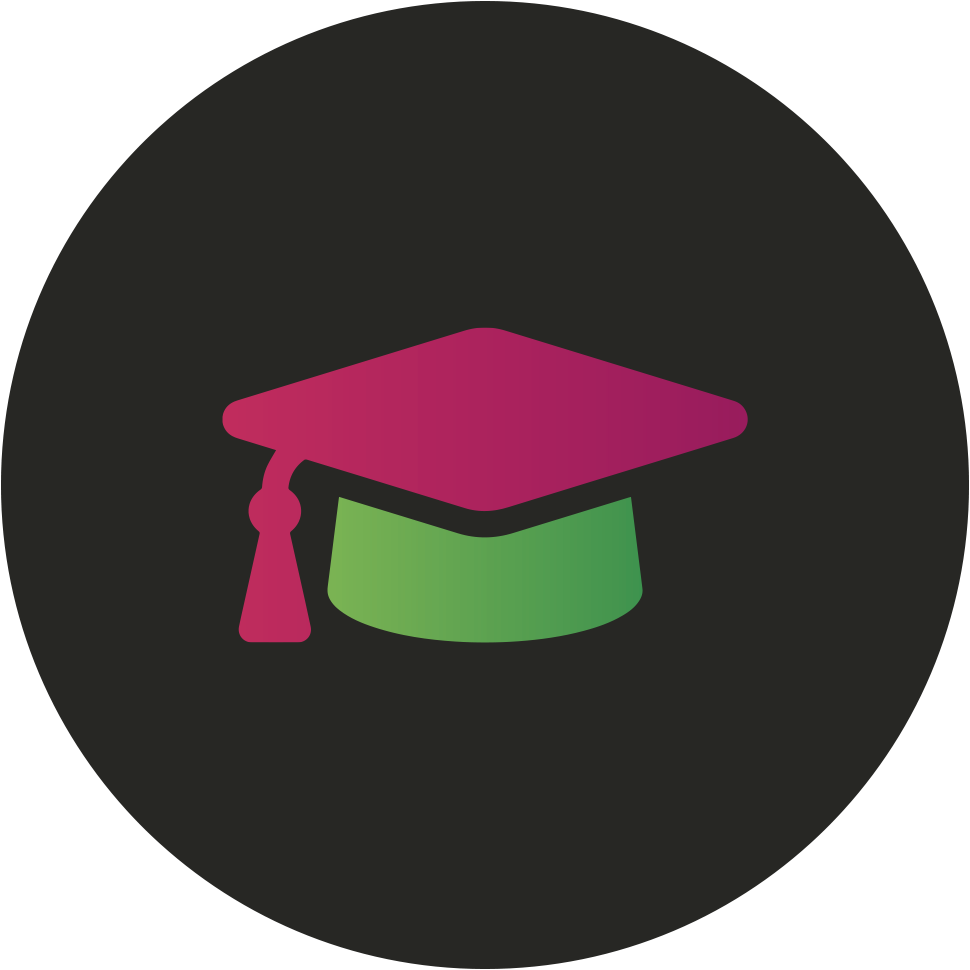 2
Access online training.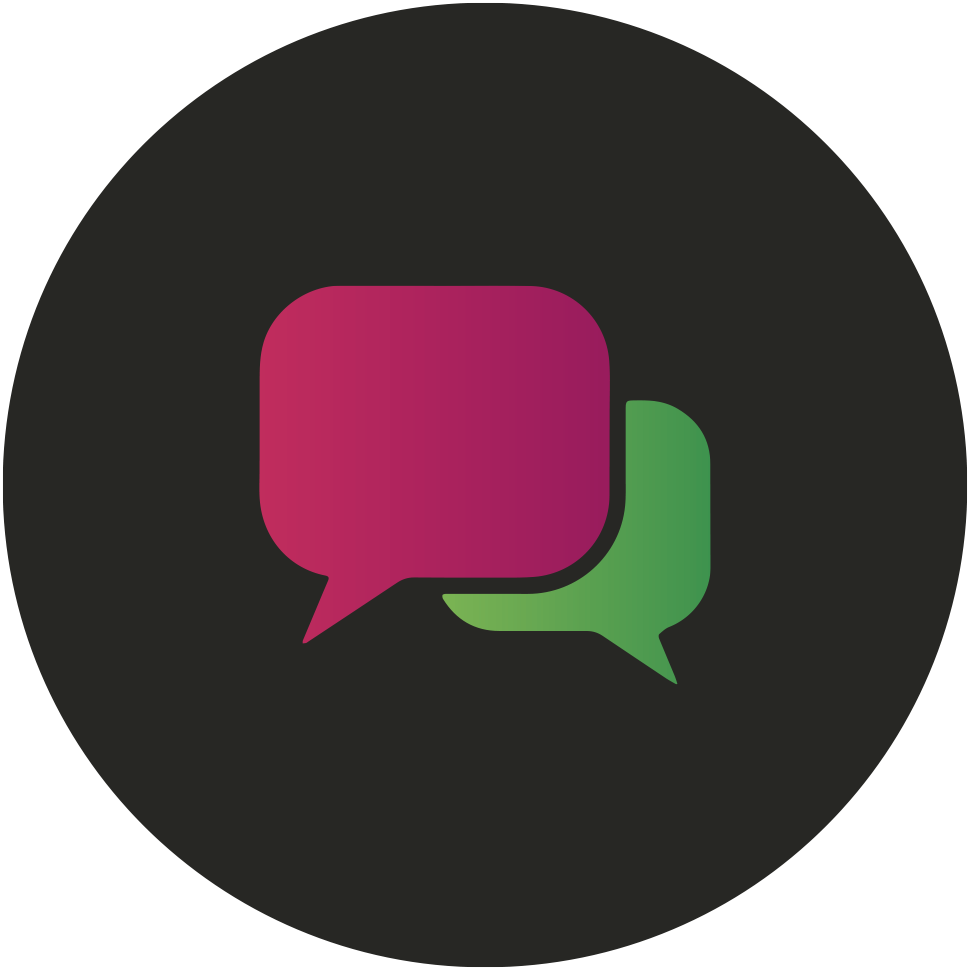 3
Speak to a member of the team.
Start building your system today.
Features
Stackable to 32 Zones (x4 MHUB S) with Source IR passback and uControl
Stackable to 80 Zones (x10 MHUB S) with uControl
Stackable (10+ MHUB S) with Control System
Supports formats up to 4K@60Hz (4:4:4) including HDR & Dolby Vision using TPC.
Selectable down-scaling on all outputs
Multi-channel digital audio support up to and inlcuding Dolby/Atmos and DTS:X
HDMI Output Mirrors (x2) for AVRs
Audio extraction on all outputs (not downmixed)
Bi-directional IR
Source Stacking IR (Pass IR from one MHUB system to the next)
CEC Support
uControl, Apple Watch***, IP*** & Amazon Alexa compatible
Remotely monitorable
Fully customisable with API access
Specification
Form factor
2U Rackmountable
Inputs / Mirrors / Outputs
(x8) HDMI Inputs / (x8) HDMI Input Mirrors, (x8) Digital Coax, (x8) 3.5mm Stereo Jack / (x2) HDBaseT + HDMI Outputs, (x6) HDBaseT Outputs
Video bandwidth
HDMI backplane 594MHz clock / 18Gbps data
HDBT 340MHz clock / 10.2Gbps data
ESD protection
± 8kV (air-gap discharge) ± 4kV (contact discharge)
Hub control
Web GUI, IR, TCP/IP, RS232, App, Alexa
App control
Full control over sources, matrix hub & display functions.
Device weight
Chassis: 2400g
Receiver: 187g
Package weight
4100g
Dimensions (W/D/H)
Hub 440 / 362 / 88mm (without feet)
RX 162.8 / 90 / 18mm
Operating temperature
32°F to 104°F (0°C to 40°C)
Storage temperature
-4°F to 140°F (-20°C to 60°C)
Relative humidity
20~90 % RH (non-condensing)
Power consumption
101W (max) tbcW (standby)
Guarantee
2/3-year guarantee (Cloud registration required)
*
**
*** Not available in Standalone. Requires Zone Processor.