MHUB S is HDANYWHERE's (HDA) new stackable matrix which offers installers an option to spec a HDBaseT-based solution for up to 32 displays by combining multiple MHUB S systems to operate as one unified matrix. With the release of MHUB S, HDA is simultaneously moving into medium-sized AV distribution projects with a viable alternative to the existing solutions available and create a foothold in the control arena with heavily updated versions of uControl and new operating system: uOS.
The system.
MHUB S (8+8x8) 100 is an 8x8 HDBaseT matrix supporting 100m of 18G/4K range and downscaling, similar to that found in the flagship MHUB PRO 2.0 system.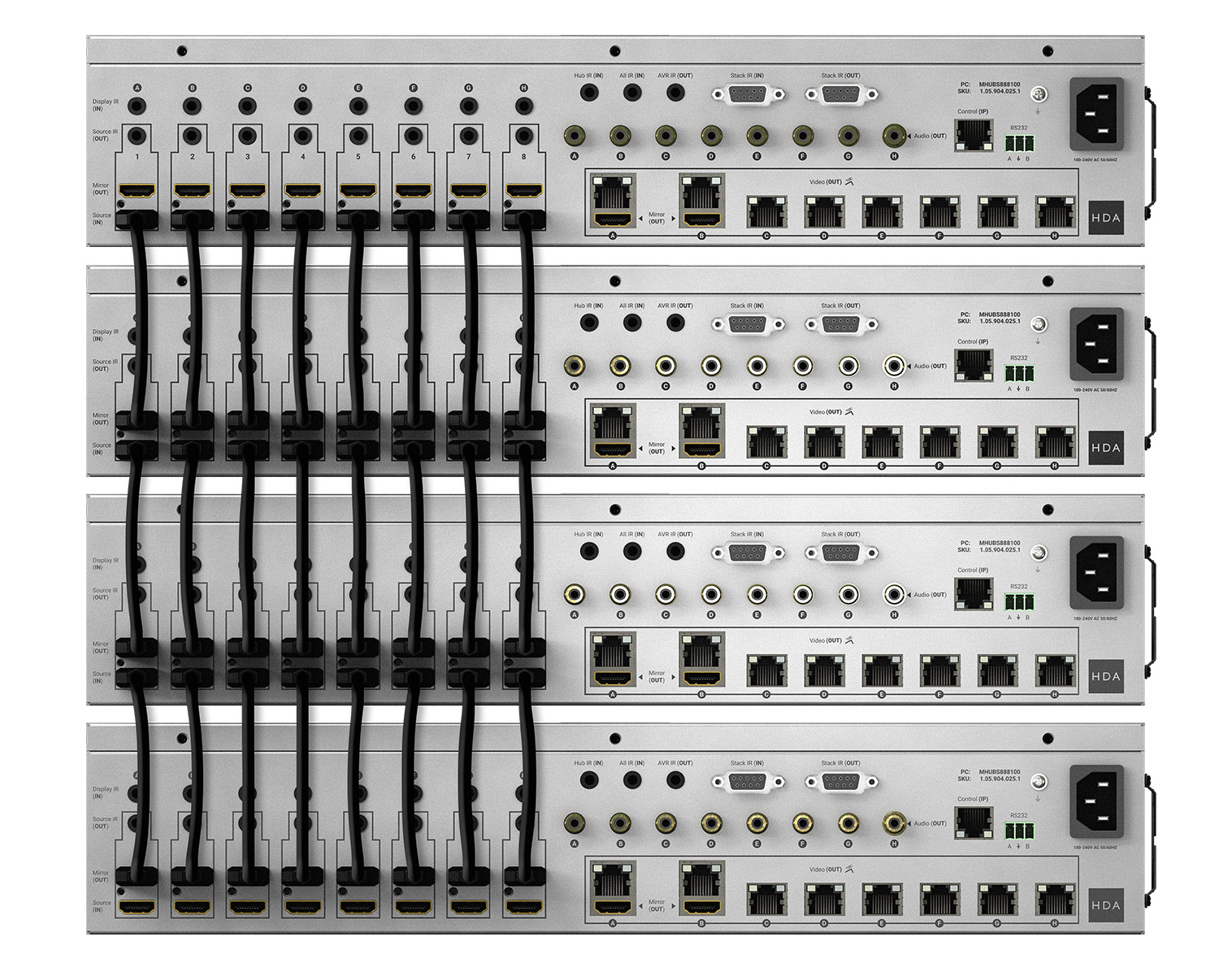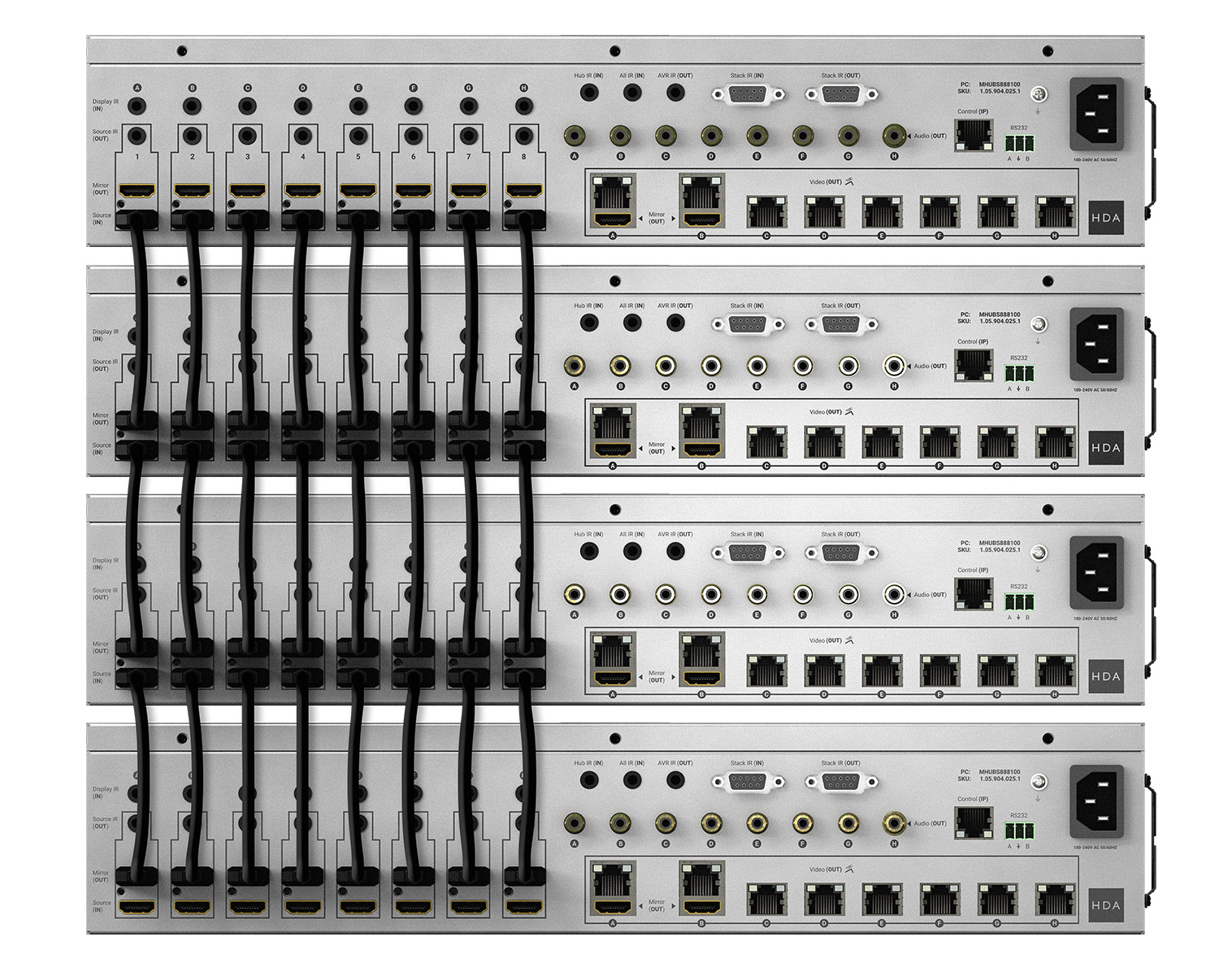 ... Can be stacked.
Where the system differs from the rest of our product offering is that MHUB S features eight video mirror ports on the input stage meaning that all video sources can be split and fed into another MHUB S system - increasing the number of distributed displays by eight at a time. Control over the system is made possible by HDA's second new product, the Zone Processor, which manages the stack, turning it from unrelated MHUBs into one managed matrix incorporating IR passback, uControl, IoT capability and sequences throughout the entire system.

We are keen to point out that whilst the Zone Processor is important in its road map, it is not necessary if an installer wants to use a control system. MHUB S + a control system offers those customers an easy alternative option for low-cost mid-sized video distribution projects - no more complex than installing any other MHUB.
Control gives MHUB S the edge.
The market is already saturated with AV over IP offerings from manufacturers who are selling much of the same thing in this space - that is video distribution using encoders, decoders (of various types) and a managed switch. Where we aim to gain traction as an option to existing solutions is the fact that control is directly built into MHUB's offering. With MHUB S there is no need to use a control system if budgets do not permit it, with no noticeable sacrifice in the end result.

Where this might have been a deal breaker with AV over IP, with MHUB S it is no issue as control for everything connected to MHUB (that's sources, AVRs, MHUB and displays) is included in the single unit cost. It's possible to go even further with uControl's best-in-class API which means anything uControl can do can be leveraged by any HTTP capable device to create entirely unique control applications for the end user. This means that doing something like turning on all displays, switching to an input like Sky Q and going to a desired channel, is as easy as sending a single URL to the system with options to automate that (make this happen at 6am every weekday) now easier than ever before.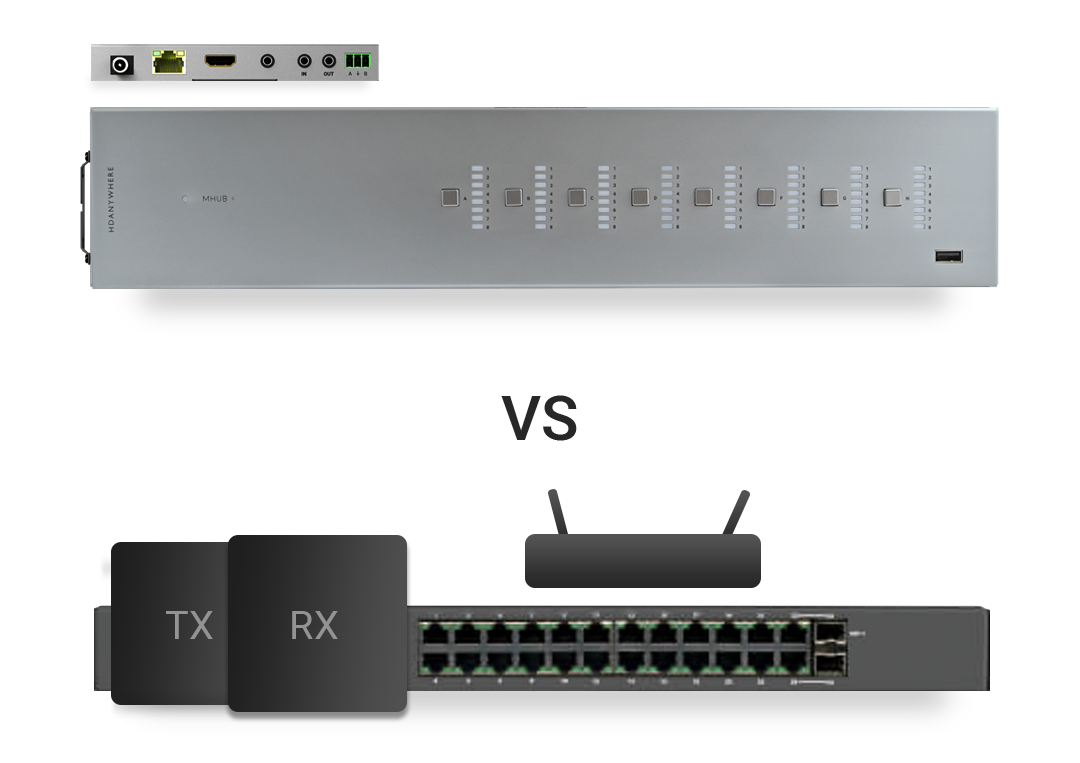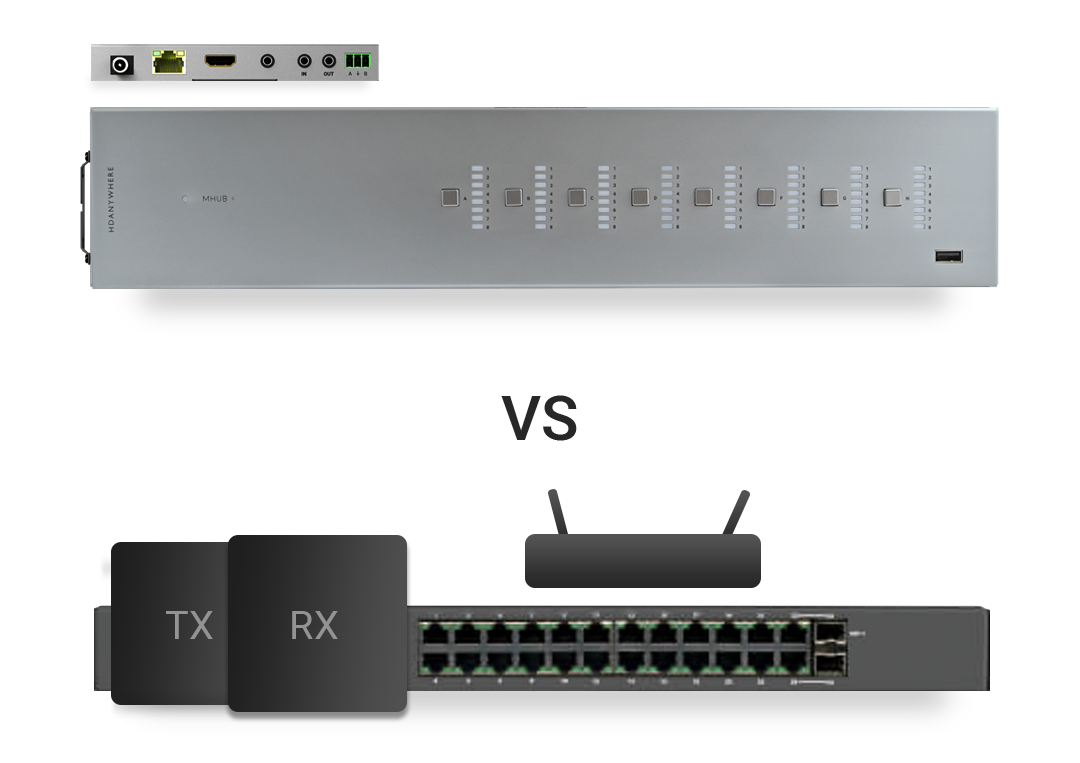 Five reasons to consider MHUB S as an option against AV over IP.
1. Significantly cheaper.
There is no denying that there is a jump in costs between a standard (8x8) fixed format matrix and a similar AV over IP system. As systems scale up there is a natural crossover between HDBaseT and AV over IP and we have identified this at around 32 displays or four MHUB S systems stacked together. If you're building a solution between 8 and 32 screens then it's likely that MHUB S is going to be the cheaper alternative.
2. HDBaseT is easier than IP.
That jump in cost is also mirrored with a jump in complexity. Our network of installers were keen to explore bigger AV projects but many were cautious of entering the world of IP based distribution. Now there is another option in MHUB S, because, in comparison, installing HDBaseT is relatively simple with no knowledge of switches, IP or knowledge of all component SKU's required.
3. Video quality.
The most affordable (and most common) AV over IP systems operate over a 1G backbone. Full-Fat 4K is 18G and MHUB S uses TPC compression to fit this into 10.2G which HDBaseT supports. AV over IP has to compress harder and more aggressively to get 18G down to 1G. Video quality is subjective but that is a lot of data to crush down to.
4. uControl is included for free but not necessary.
MHUB S comes with a built-in ability to control itself and the devices connected to it using uControl or HDA's API. For some commercial scenarios this may negate the need for a control system entirely but using uControl is optional and control system drivers are available for Control4, RTI, Savant, Loxone and Crestron.
5. Familiar.
Burn less calories thinking about your video distribution solution and spend more time actually building it, argues the maker. Choosing MHUB S over AV over IP means giving a familiar sales pitch to customers, working with familiar infrastructure and using familiar technologies. Specifying MHUB S is also easy, with only 2 SKU's to remember as everything you need comes in the box.