"A New Future Is Made Possible" is the marketing campaign for HDANYWHERE's (HDA) new 8K HDMI cable range which has been designed to be deliberately fun and targets what HDA believes is going to be the core market for this new technology.
"After 15 years and over half-a-million cables sold I think I'm suffering from some kind of deep HDMI psychosis" says Chris Pinder of HDA, " ...which has contributed to the creation of this new marketing idea. 8K content right now is primarily delivered from either a console or PC and we wanted to speak directly to that audience. The fluid hypercolour visuals delivered via 8K HDMI are the extreme opposite of dull and I wanted to reflect this in the campaign."
Available in lengths up to 15m
Available in copper or AOC (Active Optical Cable) options in lengths from 50cm up to 15-metres, the svelte, thoroughly flexible HDANYWHERE Ultra High Speed 8K SLIMWIRE MAX (48G) is not a cable, it's a certified upgrade path for all 4K devices and the portal to unleashing the full power of 8K glory now and in the future, no matter how dystopian that turns.
Take a look at our 8K HDMI Cables.
Uncompressed 8K@60fps, 4K@120fps and 10K@30fps.
Built around HDMI 2.1 specification.
Officially certified for 48G data rates.
Static/dynamic HDR, HDR10 & Dolby Vision
21:9 screen ratio support.
HDMI 2.1 spec support: VRR, ALLM, QMS, QFT.
Enhanced Audio Return Channel (eARC)
DTS Master, DTS:X, Dolby TrueHD, and Dolby Atmos audio format support.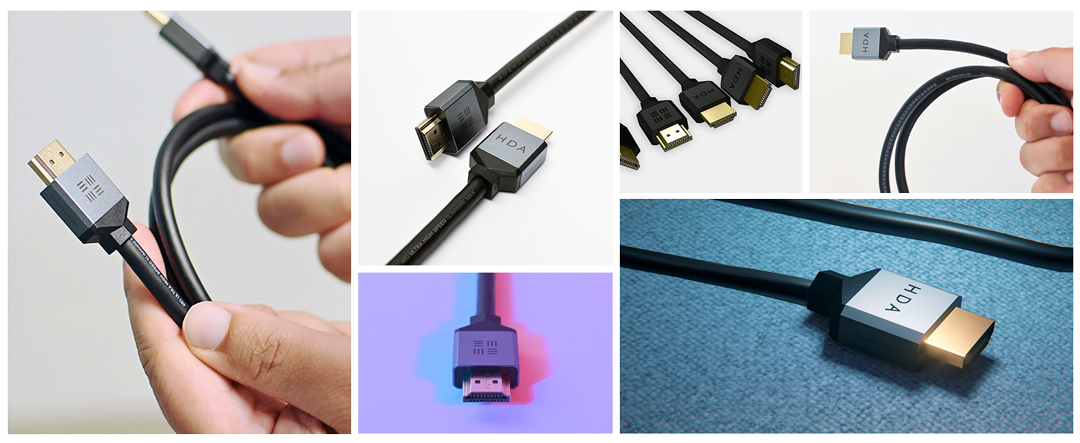 Prepare to enter a new era of next-generation gaming as HDA opens up the arena of 8K.
While 8K content for PCs and next-gen consoles may currently be in short supply, what there is deserves to be enjoyed at its full potential, and that calls for a new kind of cable; enter the number one contender SLIMWIRE MAX (48G) for HDMI 2.1.
SLIMWIRE MAX (48G) seamlessly delivers all the stunning Ultra-HD High Frame Rate visuals associated with the latest cutting-edge 4K and 8K gaming experiences, offering an uncompressed, uncompromising 48Gbps bandwidth, transmission of static and dynamic HDR, resolutions of 10K@30Hz, 8K@60Hz and 4K@120Hz, eARC (Enhanced Audio Return Channel) support for truly superior sound, Variable Refresh Rate eliminating image stutter, Auto Low Latency Mode for lag-free play and immense, immersive 21.9 video aspect ratio support. And it even looks good while doing it.
Bring the A-Game
In the exciting new technological dawn of next-generation gaming, HDMI 2.1 cables may not be the hot story, but they provide the high-performance connection that brings the story screaming to the screen in ultra-reliable Ultra-HD, proving itself an intrinsic part of any serious game's AV entertainment arsenal.
HDA's 8K Ultra High Speed SLIMWIRE MAX (48G) HDMI 2.1 range deliver every advanced aspect of next-gen games, from the console or PC to the monitor or smart TV, exactly as the games' designers intended it to be seen, heard and played, letting players soak up the flashing hyper-colours, brooding skies and doom-laden graphics of every slice of zombie-holocaust waste-ground shoot 'em up like never before.